Supporting our Local Community
With the support of our members and guests, we continued to make a massive impact during the 2020 financial year, depsite Club Kawana being closed for months during the COVID-19 Pandemic.
Club Kawana is proud to have provided support to the tune of $272,696 to a variety of community groups and local organisations with both Cash & In-Kind Donations this year.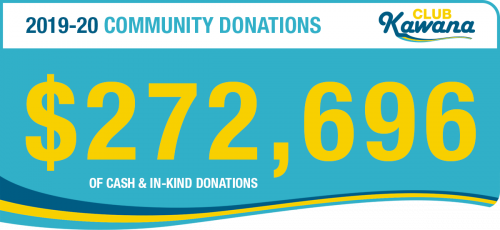 Tell Us About your Community Group.
As a non-profit community organisation, Club Kawana is committed to supporting local community groups, youth-groups as well as other non-profits and charities. Whether you are looking for somewhere to host your next function, for sponsorship, or donations – tell us about your group or organisation and how we could possibly help.  
Enquiries & Letters of Submission are made to our Directors and we shall contact you if we are able to contribute in some manner.